Turbine Blower (Regenerative Blower / Exhausters)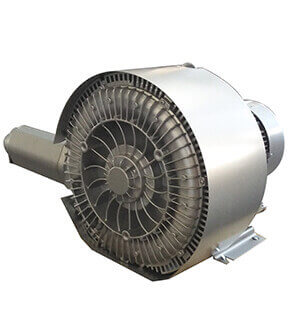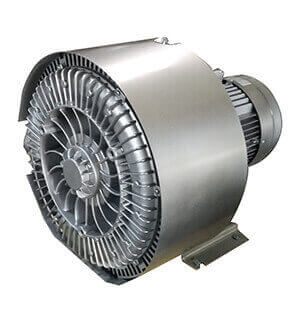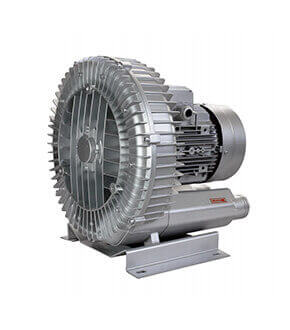 PRINCIPLE OF OPERATION :
These blowers consist of a dynamically balanced impeller which revolves in a stator cum -compression chamber having very fine clearance between them. The impeller is fitted directly on a vertical shaft and is driven by flange mounted motor. Both the suction and pressure openings are located on the outer periphery of the stator to reduce the impendence to air flow thereby developing vacuum and pressure.
APPLICATIONS:
Aeration in effluent treatment plants.
Air pollution monitoring equipment.
Industrial Vacuum Cleaners.
Furnace Air Supply.
Pneumatic Conveying
Socks Knitting Machine
Fish Farming Hatchery
FEATURES
No lubrication is required since there is no friction and hence the air is absolutely oil free.
Practically nil maintenance cost.
Extremely compact unit and can be mounted inside equipment.
Silencer (Optional) ensures low noise.
---
SINGLE
STAGE
| Model No | Capacity | Pressure | Vacuum | Motor |
| --- | --- | --- | --- | --- |
| | m3/hr max. | M Bar Max. | M Bar Max. | HP/3000 RPM |
| LBI - 50 | 70 | 80 | 70 | 0.5 |
| LBI - 100 | 200 | 130 | 120 | 1.0 |
| LBI-200 | 300 | 160 | 140 | 2.0 |
| LBI-300 | 400 | 200 | 180 | 3.0 |
| LBI-500 | 500 | 250 | 230 | 5.0 |
| LBI-750 | 600 | 270 | 250 | 7.5 |
| LBI-1000 | 800 | 350 | 300 | 10.0 |
| LBI-1500 | 1000 | 400 | 350 | 15.0 |
| LBI-2000 | 1500 | 450 | 400 | 20.0 |
---
DOUBLE
STAGE
| Model No. | Capacity | Pressure | Vacuum | Motor |
| --- | --- | --- | --- | --- |
| | m3/hr max. | M Bar Max. | M Bar Max. | HP/3000 RPM |
| LBI-50 | 50 | 130 | 120 | 0.5 |
| LBI-100 | 100 | 220 | 200 | 1.0 |
| LBI-200 | 150 | 280 | 260 | 2.0 |
| LBI-300 | 200 | 320 | 300 | 3.0 |
| LBI-500 | 250 | 400 | 350 | 5.0 |
| LBI-750 | 300 | 450 | 400 | 7.5 |
| LBI-1000 | 400 | 500 | 450 | 10.0 |
| LBI-1500 | 500 | 550 | 500 | 15.0 |
| LBI-2000 | 700 | 600 | 550 | 20.0 |
---
SINGLE
STAGE
| MODEL | POWER | DISPALCEMENT | VACCUM | PRESSURE | SOUND | WEIGHT |
| --- | --- | --- | --- | --- | --- | --- |
| LBI-1-80 | 0.5 HP | 80M2 / Hr /47 CFM | .130mbar | 140mbar | 62DB | 12KG |
| LBI-1-145 | 1.0 HP | 145M2 / Hr /85 CFM | .150mbar | 160mbar | 63DB | 14KG |
| LBI-1-21OF | 1.25 HP | 210M2 / Hr /123 CFM | .110mbar | 100mbar | 65DB | 20KG |
| LBI-1-21OL | 1.5 HP | 210M2 / Hr /123 CFM | .170mbar | 170mbar | 64DB | 22KG |
| LBI-1-21O | 2.0 HP | 210M2 / Hr /123 CFM | .190mbar | 200mbar | 70DB | 23KG |
| LBI-1-21OP | 3.0 HP | 210M2 / Hr /123 CFM | .230mbar | 250mbar | 67DB | 27KG |
| LBI-1-320V | 4.0 HP | 320M2 / Hr /123 CFM | .270mbar | 290mbar | 69DB | 37KG |
| LBI-1-400 | 5.0 HP | 400M2 / Hr /238 CFM | .290mbar | 330mbar | 77DB | 40KG |
| LBI-1-530 | 7.5 HP | 530M2 / Hr /312 CFM | .300mbar | 320mbar | 80DB | 62KG |
---
DOUBLE
STAGE
| MODEL | POWER | DISPALCEMENT | VACCUM | PRESSURE | SOUND | WEIGHT |
| --- | --- | --- | --- | --- | --- | --- |
| LBI-DS-80 | 1.0 HP | 88M2 / Hr | .210mbar | 240mbar | 55DB | 14KG |
| LBI-DS-110 | 1.25 HP | 110M2 / Hr | .200mbar | 230mbar | 58DB | 17KG |
| LBI-DS-150 | 2.0 HP | 150M2 / Hr | .280mbar | 2800mbar | 66DB | 24KG |
| LBI-DS-150P | 3.0 HP | 150M2 / Hr | .330mbar | 440mbar | 66DB | 24KG |
| LBI-DS-230 | 4.0 HP | 230M2 / Hr | .340mbar | 410mbar | 72DB | 39KG |
| LBI-DS-230P | 5.0 HP | 230M2 / Hr | .390mbar | 490mbar | 72DB | 44KG |
| LBI-DS-320V | 7.5 HP | 320M2 / Hr | .440mbar | 500mbar | 73DB | 70KG |
| LBI-DS-320P | 10.0 HP | 320M2 / Hr | .440mbar | 570mbar | 73DB | 77KG |
| LBI-DS-520 | 15.0 HP | 520M2 / Hr | .430mbar | 660mbar | 74DB | 88KG |